If you're looking for a way to reconnect with your partner and enjoy some quality time together, then playing these best two person games for couples is exactly what you need. Plus, who said you can only have game nights with your kids? Not me LOL.
From classics to newer games, there are plenty of options that are perfect for at home date nights. No matter the type of game you prefer or if you have no idea what you would even rather play, the list below is here to help.
[Disclaimer: Please note this post may contain affiliate links. This means I may receive a commission if clicked at no extra cost to you. Though the opinions remain my own.]
Why Spending Time with your Spouse is Important
Before we deep dive into all the best games for couples, you should know that although you'll be having fun, it's important for you to do. In fact, one of the best ways to improve your relationship is by spending time together. By doin this, it'll help build and strengthen the relationship between you and your partner. 
Plus, it also reduces stress, anxiety and negativity while increasing happiness, positivity and satisfaction. So be sure to plan an evening that includes activities that each of you can enjoy. 
Now I know this might not always be easy, especially if you have young kids at home. However, if you have a foundation in place and add an at home date night to your monthly routine, it'll become much easier to actually go through with the date idea plan.
Even though there are multiple ways you can date each other, playing games together is one of the easiest yet fun ways to do this. So take a look below at the best two person games for couples to try during date night.
Best Board Games for Couples
Many board games have been around for quite some time, but there are others that are a bit newer yet still super fun to play. So if you're looking for the best board games for couples, then these are some of the most popular ones that parents have been enjoying.
Scrabble
One of the classic games for couples is Scrabble. It's a game that involves reading, vocabulary building and logical thinking to find words that are on the board. So if you like playing with words, this is the game you two should play. 
Check out the Scrabble game here.
Pictionary
Pictionary is another good choice for couples to play. This game usually involves drawing images of objects or describing images seen with one word clues. It can be a lot of fun, especially if you're looking for an hour or two of pure laughter with your spouse.
Grab your Pictionary game here.
Dominion
Dominion is a game that feels like you're building your own empire. It involves buying, collecting and using resources in an effort to build up your domain as you fight against other players. For that reason, it's best for couples who enjoy building and developing kingdoms.
All the Classics
Or you could always stick to the classics. They've been around a long time for a reason so having one of these sets of classic board games is a good idea to keep in your home. They're simple yet challenging and fun to play with your spouse.
Grab your set of classic games here.
Competitive Games for Couples
Competitive games are another type of best two person games for couples who want to spend time together without being bored. These games are fun because they keep you actively engaged in trying to outdo your opponent.
In fact, these are probably the games my husband and I would enjoy the most since we're so competitive LOL.
Jenga
Now I know you've heard about or have even already played Jenga. It's a game where players try to remove one block at a time without letting the tower fall down. It's cool because you're not only competing against one another, but also against the tower. So the one who doesn't let the tower fall wins the game.
Battleship
Battleship is a game that's played by placing naval ships on a grid in order to sink the other player's fleet. The game starts with each player drawing half of their fleet in secret and then making guesses about what their opponent's ship locations are. When players run out of guesses, the battlefield is revealed and whichever fleet remains afloat is declared the winner.
Take a look at the Battleship game here.
Mexican Train
Mexican Train is one of the best two person games for couples and was actually recommended several times in a Facebook group I'm in. This game is played by placing dominoes on the table and then creating chains in order to avoid being eliminated by your opponent. It must be fun and is on our list of games to try soon.
Get your Mexican Train Dominoes Set here.
Intimacy Games for a Date Night
It's always a great idea to find new ways to develop and maintain intimacy in your relationship. What better way to do this than by playing games? But not just any type of games, specifically intimacy type games. They are especially a great idea to try if you're looking for something different to spice up a date night.
Intimacy Deck
The Intimacy Deck is a new couples game designed to help you explore the different levels of intimacy in your relationship, all while having fun and enjoying each other's company. The deck includes 52 cards that cover different items like "acts of service", "kisses" or "physical display of affection" which you will both take turns drawing a card and performing the action. Sounds fun right?
Take a look at the Intimacy Deck here.
Uncommon Questions
Uncommon Questions is a box of just that, questions to ask your partner over a glass of wine to get to know them more than you already do. And trust me, some of their responses may surprise you so don't knock this one of the list just yet. It'll seriously bring some great laughs and meaningful conversations, some you may never have had without it.
Grab your set of Uncommon Questions here.
Fogs of Love
Fogs of Love is a board game that's played by making guesses about what your partner is thinking or feeling. It includes over 100 different topics and 25 words for each for a total of 2500 possibilities. The game includes things like where you have been, perfect first dates, conversations about money and so much more. It's similar to Uncommon Questions above but with different topics.
Take a look at Fogs of Love here.
Make Your Own Love Rules
Now this one is not a game LOL, but it's an instruction on playing other games you may already have at home. Simply grab one of your games and twist the rules a bit. For example, if you play Monopoly together, make it so that every time they land on your space, they give you a kiss. Cheesy I know but still cute and can be done with different types of games as well.
You May Also Like: Top Valentine's Day Gifts for Him
Best Two-Person Card Games
Now card games are fun because they offer a different type of challenge when it comes to playing and winning. Players need to strategize, make decisions and be able to think on their feet if they want to win. Playing card games with your significant other can help both of you become better at these things while also spending quality time together.
The majority of these card games can be played with a simple deck of playing cards like this one.
Sequence
Sequence seems to be a super popular game for couples. It's a board and card game that focuses on strategy. You'll need to learn how to block your opponents, remove their chips and watch out for Jacks in order to win. It's fun yet challenging so perfect for a couple who likes to try to really strategize against their partner LOL.
Slapjack
Slapjack is a great two player card game that's easy to learn as it's mostly just about predicting your opponent's moves. The idea of the game is to see if you can slap your cards down in sequential order before your opponent does. The great thing about this card game is that there are a lot of variations on how to play so you'll never get bored.
War
War is another two person card game that's pretty simple and also popular. In this game, players take turns drawing cards from a pile in order to match the symbols on them with cards in hand. The player who has the most matches after their opponent draws all of their cards wins the round.
Spoons
Spoons can be a two-player card game that's quick to learn but hard to master. The goal is for one player to have all cards of the same rank, like spoons, in their hand before the other player can collect all the spoons. Scoring is based on what rank you end up with when all the cards are laid out. The person with the most points wins the spoons game.
Speed
The Speed card game is a two-player card game where players take turns drawing cards from a pile in order to match the symbols on them with the cards in hand. This card game can be a fun way to get rid of some pent up energy while also having some healthy competition against your partner LOL.
For more two-player card game ideas, visit YouTube here.
Two-Player Video Games
Two player video games are a great way to spend quality time together. There are two main types of video games that work well for couples: fighting games and adventure games. Personally, I prefer the fighting ones haha!
Here are some of the best two person games for couples to play on either the PlayStation, Xbox or Nintendo Switch.
Mario Kart
Mario Kart is great for couples because it has a pretty simple premise and is an easy to understand game. Your goal in Mario Kart is to collect coins while trying to bump into your opponents and knock them out of the race. All of this while also navigating across a variety of different obstacles thrown into the course.
Check out the Mario Kart game here.
Super Smash Bros
Super Smash Bros provides an excellent opportunity for you and your partner to spend time together and have a lot of fun doing it. Since it's a friendly fighting game, there will be plenty of opportunities to laugh and joke around while kicking each other's booty LOL.
Check out the Super Smash Bros game here.
Just Dance
Now another of my favorite two person games for couples is Just Dance. We haven't played this game together yet but it's definitely on my list of games to buy this year. I've played it on my own before and it can be a lot of fun! I mean who doesn't like dancing? It just makes it a bit more awkward (but fun) to dance in front of each other LOL.
Check out the Just Dance game here.
Tekken
If you're looking for another fun fighting game that's more aggressive than Mario (haha), then Tekken is the perfect choice. It's a game that pits players against one another in order to knock each other off a platform while also trying to avoid getting knocked off themselves. We have this game at home and it gets pretty wild, leaving my fingers hurting at the end of each fight.
Check out the Tekken game here.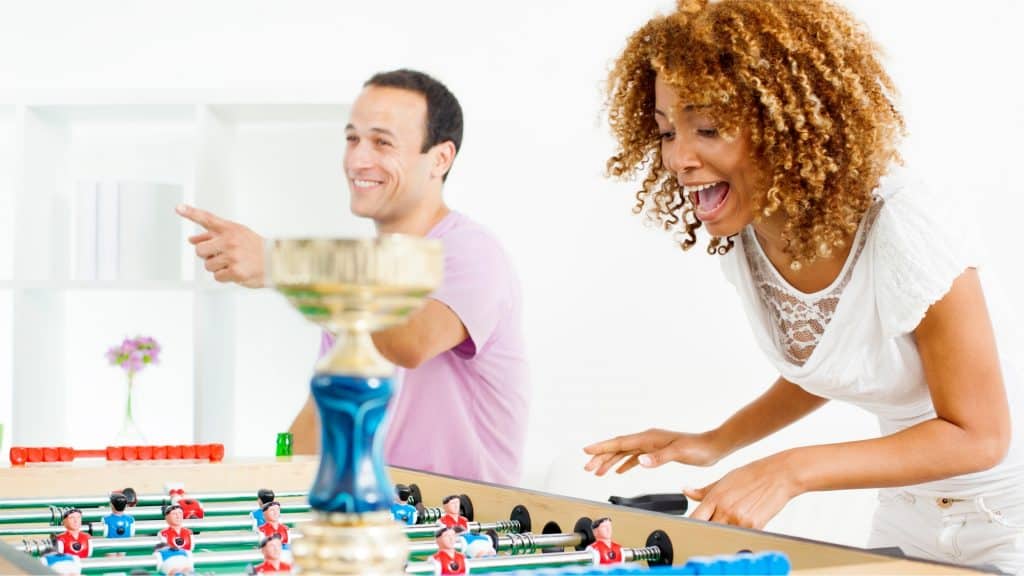 Miniature Versions of Two-Player Games
Some other fun and probably the best of the best two person games for couples include my some of my personal favorites – miniature versions of big activities we would normally play at an arcade or bar. So in a way, it's like having an arcade at home LOL.
Tabletop Foosball
Foosball is one of our favorites and we play this every so often (especially with my son but that's for another time LOL). We are big soccer fans so it's like playing soccer indoors. However, if you guys are as competitive as we are, it might get a bit noisy due to it lifting up from the table when you play.
Check out this Foosball table here.
Tabletop Air Hockey
Air Hockey is another one we have at home and mostly play with our son, but sometimes we'll play against each other as well.  The table is much smaller than a normal air hockey game you'll find in an arcade but it works just as well.
Check out this Air Hockey table here.
Pool / Billiards
Playing billiards with your partner is another fun way to spend quality time together. Since it's a game where you can be more quiet and relaxed, you'll get to talk more and get close to your partner. While pool is also great in the sense that you can have competition against each other without actually being competitive that towards one another.
Check out this tabletop pool table here.
You May Also Like: 57 Cool Gift Ideas for 7-Year Old Boys (Picked by a 7-Year Old)
More Two Person Games for Couples
There are many other types of games you can play too. It all just depends on what type you're aiming for. And just in case you are wanting a few more ideas of the best two person games for couples, here are a few more popular ones:
Yahtzee
Yahtzee the game is played by rolling dice in order to score points and create combinations. You can play the game with one to six players but is great for couples since you're having a friendly competition against each other LOL.
Mancala
Mancala is one I haven't tried yet, but also seems to be extremely popular amongst other couples. It's a strategy marble game in which players take turns trying to collect the most stones. Apparently, it's not as easy as it sounds so definitely make sure to give it a try.
Take a look at the Mancala game here.
Dominoes
Now there are multiple two player games you can play with dominos. One game we recently played was Bones which was pretty fun though it left me needing a rematch haha. Don't be fooled at how simple and easy playing dominoes is because not all games are easy.
Take a look a several two-player dominoes games here.
Mastermind
Another classic and favorite game for couples is Mastermind. It's a challenging game of logic and deduction in which you need to crack the code in as little moves as possible. There are so many code combinations so no single game is the same, making it fun each time.
Grab your Mastermind game set here.
---
Have Fun Playing These Games!
Now this list is by far not the only games you can play with your partner, but it is a consolidated list of the best two person games for couples. Many of these were recommended by other moms themselves and are all great way to show your spouse some love and have some fun during a date night at home.
So have you played any of these games with your partner? Are there any new ones you will be trying out? Let me know in the comments below, I'd love to hear from you!
Related Posts: